Welcome to AIYM - About Us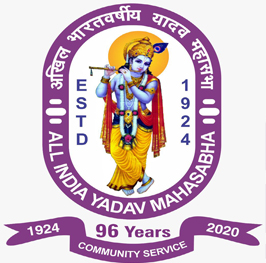 AIYM is an exclusive & comprehensive social networking website for the people of the yadav community. This site has been created with constructive & creative motive to bring the people of yadav community come closer world wide. Our aim is to provide a platform for people of yadav community, where we can share our views, know each other & discuss our common problems. This is also an attempt to compile data base of profile of each & every living yadav on this planet.
The main features of this website are:
1. Membership - It is an attempt to compile data base of each & every living yadav families with photo of head of family.

2. Executive Bodies - The main objective of this site to complete the details & information.

3. History of Yadavs - This feature contains ancient, modern & present historical events of yadavs of international , national, political, civil services, sports, films & media, writers & journalists, science , technology & medical scientists, industrialists, entrepreneurs as well as yogi's/ spiritualists and devoted social reformers & workers etc.

4. Photo & video gallary - These features will show you selected photo & video coverage's of important functions of our community as well as different parts of India through the link of All India Yadav Maha Sabha .

As we know , most of our community people are living in rural areas. They do not get enough supports or guidance for education 7 carrier. We are coming up with a Counselling Cell consisting of educational experts for carrier counseling , Medical Doctors/ Specialists for medical assistance as well as Legal Experts/ Advocates for guidance about legal mattes/ disputes.

Lastly , we need financial support to make all these happen. All of you specially yadav Enterpreners,Businessmen & having Institutions, Schools & their Colleges & other organizations and economically sound may contribute by way giving advertisements about their business , firms & institutions. We are looking for your contribution to make this effort successful.

We also welcome your valuable suggestions for betterment & make this very much useful for our community.
Executive Committee Members
Under Construction
Anand Yadav

Joint Secretary

Anand Yadav

Joint Secretary

Anand Yadav

Joint Secretary

Anand Yadav

Joint Secretary